Wedding insurance: here comes the guide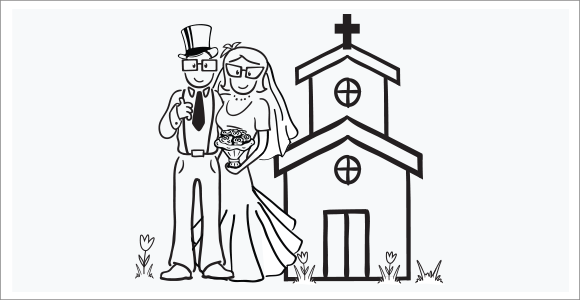 Want to keep your cool in your wedding whites? Wedding insurance can help make things 'all white' on the day.
You're ghostly pale, and you're not even in your wedding whites. You've just found out your caterer's gone bust or a storm has shredded your marquee to bits, shattering your wedding budget and dream day plans to bits.
All too quickly your storybook ceremony has turned into matrimonial mayhem!
But a spell of bad luck needn't nuke your nuptials. When wedding bells turn to alarm bells, wedding insurance can literally save the day.
What is wedding insurance?
With the average wedding in Australia costing a whopping $47,888*, it's safe to say that your big day is one worth investing in! With huge costs come even bigger risks. Could you really afford the financial blow of a wedding day disaster? When it comes to your gown, rings, and wedding suppliers, a lot can go wrong. For just a few hundred dollars, wedding insurance will cover these costs and more, ensuring your path to wedded bliss is all smooth sailing.
What's covered?
With just months to W-day, the race is on and so is the mounting pressure. With guest lists to organise, music to prepare, bridesmaids to coordinate and more, do you really need a last minute emergency to add to the list?
Wedding insurance will ensure you'll be crying tears of joy, not distress at the altar. You'll be covered for:
Personal liability: You shouldn't be held responsible for your guests on your special day, but accidents do happen and the last thing you need is a legal minefield on your hands. If someone slips and breaks a leg or property is damaged at your wedding you could be covered for up to $5 million (depending on your policy and cover level).
Cancellation and postponement: Perhaps a storm has destroyed your wedding venue or at the last minute the father of the bride falls ill. Should you need to cancel or reschedule you'll be covered for any additional costs to ensure your wedding goes off without a hitch. Unfortunately a change of heart is not covered so think hard before you take the plunge!
Failure of supplier: Everyone's heard the horror story; the caterer that went bankrupt, the limo driver who never arrived or the photographer who lost your wedding day digitals. Your policy would cover any lost deposits, pay for alternative arrangements and even pay for a re-shoot of your bridal party if your photos go missing!
Wedding attire: Here come the bride, all dressed in...WHAT? No bride would dream of walking down the aisle with a ripped hem or stained dress. Likewise a ripped pant leg is hardly a groom's best look. Should your wedding attire be damaged, lost or stolen, wedding insurance would cover the cost of repair or replacement. This would also apply to a member of the bridal party or an immediate family member.
Wedding rings: Losing or damaging your ring can really put a dent in your wedding day. Perhaps your precious rock has gone down the garbage disposal or your trusted ring bearer has gone astray. In any case it's awfully hard to say 'I do' without that bridal bling. Insurance will cover the cost or reimbursing or repairing your wedding band and engagement rings. Remember, cover limits will vary so pick a policy that suits your ring budget.
Wedding gifts: Only the truly heartless would steal your wedding gifts but sadly, this does happen. Wedding insurance will pay to replace or repair gifts that are lost or stolen or damaged (i.e. by a fire or storm) within a limited time period. A police report is usually required in cases of theft.
And more…
When you're not covered:
Change of heart: Brrr, feeling the chill of cold feet? Unfortunately, a no show on the big day is not a covered event. Insurance will not cover foreseeable events such as a break-up (although you may not view them that way)! So whether you're experiencing last minute jitters or you're thinking about calling the whole thing off, don't count on wedding insurance to pick up the tab.
Overseas weddings: Planning a big, fancy destination wedding? Most Australian wedding insurers will not cover overseas weddings. Dream Wedding Insurance will also cover overseas weddings but will exclude personal liability for destination weddings. Some insurers like Go Insurance provide destination wedding cover specifically for cancellation and vendor insolvency.
Losses incurred by no shows: A good proportion of your wedding stress will involve locking in your final numbers. However, quite often at least one or two guests will pull a no-show on the day. Unfortunately, you won't be covered for those empty seats regardless of the reason. Another reason to keep your numbers low!
Loss or damage at bridal showers or bachelor/hen's parties: Yes they are a big part of the wedding celebrations but unfortunately, wedding insurance coverage does not extend to engagement parties, stag nights, hen's do's or any parties beside the wedding itself. Take note that this will also apply to your ceremony and wedding reception; these must take place on the same day to be covered.
Post wedding damage: Wedding insurance would not cover damages or any additional expenses incurred after the wedding itself. For instance, if your photographer left behind some equipment at the venue and it was stolen the next day, it would not be covered.
Recklessness: Yes it is your big day and of course you're entitled to a few glasses of bubbles. But when the party turns from raucous to downright destructive, Houston, you've got a problem. Damage caused by anyone under the influence of alcohol may not be paid for.
Pre-existing conditions: If either you or a family member suffers a pre-existing illness prior to taking out your policy, take note. If the illness forces you to rearrange or cancel your wedding, you may not be entitled to claim.
Deposits prior to buying insurance: If you haven't bought wedding insurance yet, listen up. You may not be eligible to claim on any paid deposits if you hadn't already paid for cover.
Unattended items: This is a good time to exercise maximum caution! Some insurers will not cover you if your wedding gown was stolen from a vehicle (although a locked boot is fine). Additionally your wedding gifts would have to be supervised in order to be covered for theft.
And more…
The final word
As always, attention to the details can ensure your peace of mind. For instance, every insurer will vary when it comes to wedding postponement (some will only pay for the event to be rescheduled within 45 days of the original date). You'll also want to take note of wedding attire and ring cover levels as well as any relevant exclusions.
Ready to bask in the glow of wedded bliss? You deserve peace of mind on the happiest of days. To get you over any potential hurdles on your way to the chapel, you can count on wedding insurance.
*SOURCE: Bride to Be magazine (Note: the ceremony and reception includes all styling, cake, stationery, bomboniere, DJ, transport etc). This number excludes honeymoon and pre-wedding party costs.