Rainbow weddings: cover for all!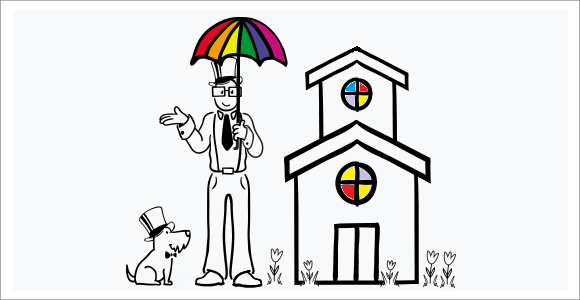 It's time to take stock of the state of LGBT weddings! Although, sadly, same-sex marriage has still not been legalised in Australia (at the time of writing April 2016) there are strong hopes that this will be the year for marriage equality.
In the interim, thousands of gay couples have said "I do" to commitment ceremonies and overseas weddings; with or without Australia's legal recognition.
Weddings are a big business and official or not; gay couples are keen to invest in the 'perfect day.' But with the average Australian wedding costing a whopping $47,888*, could you bear the brunt of a wedding day disaster?
As an emerging industry in Australia; wedding insurance has seen steady growth for couples looking to safeguard their special day. And unlike other outdated institutions, wedding insurance doesn't discriminate!
Dodge the disaster
So you've decided to host a commitment ceremony and all your plans are set; your celebrant is booked, the perfect venue locked down and your guest list sorted. Your dream wedding countdown is on and there's not much else to think about…or so you thought.
But now your caterer's called to say the company's gone into receivership and can no longer host your wedding…or perhaps your venue's gone down in flames (along with your peace of mind) and your pre-paid deposits are unrecoverable. Or worse; one of you has fallen ill or been seriously injured and can't make it down the aisle.
For example, when Steve and Brett* set the wheels of their wedding in motion, little did they anticipate the upheaval they would encounter. Just days before the wedding day Brett was in a horrible car accident and was forced to undergo emergency surgery. Although Brett thankfully recovered, there was no feasible way the day could proceed on the set date and the couple were forced to cancel, losing all their pre-paid deposits.
What does wedding insurance cover?
Should an unforeseen crisis occur your pre-paid deposits will be covered along with the following:
Personal liability: Say your page boy over excitedly runs towards your photographer who, distracted, trips and shatters thousands of dollars' worth of camera equipment; or perhaps you or your fiancée leave a candle burning which starts a fire at your wedding site. The legal ramifications of both events would be covered for up to $5 million (depending on your policy and cover level).
Cancellation and postponement: Whether a flood has damaged your venue or a close member of the family has taken ill; there are instances in which your wedding simply cannot proceed. You'll be covered for cancellation and rescheduling costs to ensure your wedding goes off without a hitch. Unfortunately a change of heart is not covered so sort out those cold feet before it's too late!
Failure of supplier: Weddings depend heavily on the success of your suppliers; unfortunately even the very best vendors can make mistakes. Your caterer may go bankrupt, the limo might crash or your wedding day digitals could go AWOL. Your policy would cover any lost deposits, pay for alternative arrangements and may even pay for a re-shoot of your bridal party if your photographer loses your photos.
Wedding attire: You've spent time and money ensuring you're looking picture perfect at the altar. Should a pant seam split, a red wine spill stain your wedding whites, or your attire go missing; wedding insurance would cover the cost of repair or replacement. This would also apply to the attire of a member of the bridal party or an immediate family member.
Wedding rings: Your wedding bling is priceless, particularly when exchanging your vows. Insurance will cover the cost or reimbursing or repairing your wedding band and engagement rings should they be damaged, lost or stolen. Cover limits will vary so pick a policy that suits your ring budget.
Wedding gifts: Only the truly heartless would steal your wedding gifts but sadly, this does happen. Wedding insurance will pay to replace or repair gifts that are lost, stolen or damaged (i.e. by a fire or storm) within a limited time period. A police report is required in cases of theft.
Damaged hire equipment: Say uncle Reg has taken a tumble and ripped a hole in the side of your marquee tent. Or a guest has gotten a little carried with their dance moves and left skid marks on the ground. You'd be covered for accidental damage to hire equipment including marquees, tents, chairs, tables, furniture or lightning equipment.
And more…
Cover abroad
A destination wedding can be the ideal way to celebrate your long-awaited nuptials…until it's not. Illness, bad weather, lost or stolen items or an unexpected vendor cancellation can turn your glorious day into a ghastly ordeal. Luckily, wedding insurance would cover you both at home and away. Note that although wedding insurance can be a lifesaver when it comes to your grand event, it won't provide you with medical cover so be sure to pack travel insurance.
Check the paperwork
Unfortunately, even if you do perform the ceremony overseas, your marriage would not be recognised back home. Ceremonies performed overseas cannot override current Australian laws.
If you are getting married abroad it's vital to check the requirements of your destination. Some countries will insist on certain legal documents or for the ceremony to be conducted in the local language. Being stranded down the aisle without the necessary documentation could be costly and disastrous.
Stay calm and say 'I do'
Whether yours is a traditional white wedding or an intimate beach commitment ceremony; all weddings are life changing events. It's worth knowing that a protection plan is available for your momentous occasion; no matter where, or who you marry. Compare wedding insurance policies today to find the perfect policy for your rainbow wedding today!
*SOURCE: Bride to Be magazine (Note: the ceremony and reception includes all styling, cake, stationery, bomboniere, DJ, transport etc). This number excludes honeymoon and pre-wedding party costs.
*Names changed