When mistakes happen there's professional indemnity insurance!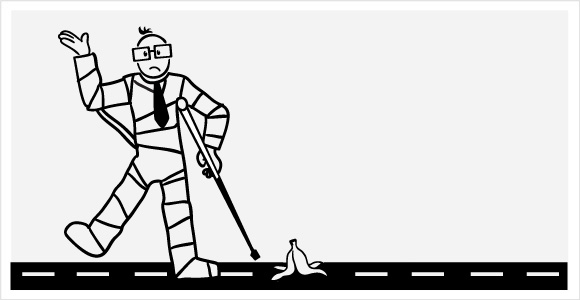 Mistakes happen. When they occur in the professional world, the associated losses can be a huge threat to the vitality of a business. A third party may take legal action against a business, threatening it's financial resources, stability, and reputation. Even if a claim is not awarded to a third party, the time and expense involved in having to defend against legal action can ruin a professional entity. To protect against this risk, businesses use professional indemnity insurance. This form of insurance allows individual professionals, small businesses, and large companies to provide their services without fear of being sued for an error.
What's covered?
In Australia, consumers are protected from unfair business practices by the Australian Consumer Law. This legislation ensures that consumers have rights when they engage with businesses. They are protected from misleading conduct, unfair contract terms, and unsafe products and services. If a consumer experiences losses or damages, they have the right to take legal action to recover their losses.
What happens if a client is injured during a yoga class, or slips on a banana skin?
What happens when a customer's data is lost?

What if someone loses money because a real estate agent overlooked vital information?

What if a client misinterprets the advice of a psychologist and ends up in a detrimental situation because of this misinterpretation?
In all of these cases, a client or customer experiences a loss, although the professionals offering their advice or services may have done everything possible to do their job correctly. When a third party experiences losses from the receipt of professional services, then a business can be liable, even if the losses were rooted in an error or if a mistake occurred on the part of an employee, partner, or a volunteer.
A legal claim against a business can cost time, money, and it can damage a company's or an individual's reputation. Whether the professional is at fault or not, a lawsuit can still be damaging. Professional indemnity insurance covers the cost of a claim and legal expenses when an act, error, or omission in relation to the provision of professional services occurs.
Types of claims that may be covered include:
Defamation or slander
Loss of client documents
Inadequate advice
Damage or loss to a third party
Breach of duty
Breach of conduct
Not only should the policy holder be covered, but also all employees, partners, or volunteers while a professional duty is being performed.
Who needs coverage?
Any business that offers a service or advice may use this type of insurance to protect against the risk of legal claims. This includes professionals in a variety of fields such as health care, finance, and consulting. All of the following are professions that may be interested in coverage.

Real estate agents
Tax professionals
Accountants
Brokers
Doctors
Nurses
Therapists
Consultants
Coaches
Engineers
Bookkeepers
Dance teachers
Designers
How to find the right coverage
There are so many different types of professionals who could benefit from professional indemnity insurance. Some may be individuals who only require limited coverage. Larger businesses may need to make sure all employees and subsidiaries are included in a policy. To answer the specific needs of different entities, there are different potential features of an insurance plan. It is important to examine each plan and carefully compare available options. Key aspects to consider include liability limits, policy exclusions, and the details of coverage – exactly who and what will be covered? Talking to an insurance broker can make it easier to get the right policy.
Professional indemnity insurance protects professionals against the unexpected. It reduces the risk of doing business and protects entities from potentially huge losses in the event of a liability claim. Most importantly of all, it allows professionals to focus on providing their best service.
Other types of business insurance
No matter whether you're a small medium enterprise, or one of the big guys- every business needs protecting! From time-to-time unfortunate events occur at work that are out of your control; staff can get injured, websites may be hacked and businesses are sometimes sued. You can't always predict a company calamity but you can be prepared for the unexpected. See what other types of business insurance are available to your business today!