Home insurance and floods: the word on wet weather cover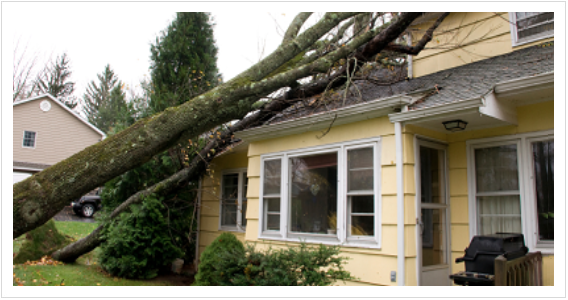 As winter approaches, Australians feel the sting of wet weather property damage.
The colder months usually lead to an increase in home insurance claims with storms, floods and hail causing havoc for Australian home owners.

In recent months, NSW and QLD residents suffered incredibly destructive winter weather. Sydney siders in particular experienced 'the worse storm in 10 years,' and damage costs soared into the millions.

Avoid winter woes by making sure you understand your home and contents policy, and especially where you stand with floods, and claiming for damages.

Preparing maintenance precautions outside the home are essential for the winter. Ward off any wet weather woes and become acquainted with the most common home insurance exclusions. We've outlined the most important ones you need to know…
Common flood cover exclusions
A common misperception is that flood cover is automatically built into most home insurance policies. This isn't always the case. Some insurers such as Budget Direct, Virgin Money and 1Cover exclude cover for flooding from their policies, which could equal savings for those who don't live in flood zones. Meanwhile, others such as GIO and NRMA, will charge a higher premium to those who live in areas prone to flooding.

However, whist some insurers may exclude flood cover from their policy, they will still cover for rainwater damage or 'sudden and unexpected escape of liquid.' Exclusions can vary widely; for instance AAMI, Westpac and GIO will cover for damages caused by a natural water source, such as from a river, but not for damage caused by actions or movements of the sea or high water. Some will not cover for rainwater mixed with flood water, or only for events that occurred within 24 hours of a storm.

There are many different exclusions when it comes to flood and storm damage and without understanding your policy, you could be in for a nasty surprise. Equally, if you are not at risk of flood damage you could make big savings by opting for a policy that doesn't cover flood risk.
Storm damage vs flood damage
The good news! Whilst some insurers don't include floods in their policy, they will usually cover for the effects of a storm on your premises. Storms usually entail damages caused by violent winds, including cyclones and tornadoes, thunderstorms, hail, rain or snow. For instance, if a storm were to damage your roof and cause a leak, you would be covered.

Water damage as a consequence of burst water mains, pipes, gutters, water tanks, fixed appliances and heating or cooling systems are usually covered, but once again, it is crucial to take note of any exclusions that may pertain to your particular claim.
Know your cover
Understanding your home insurance policy, and ensuring you have the best cover for your circumstances is the ideal way to avoid paying for unexpected repairs to your property.

The crux of flood and storm cover is all in the detail. Lengthy as it may be, it's essential to review your policy documentation (Product Disclosure Statement) if you haven't already. Take note of all the different flood cover exclusions that apply to your home insurance and if you live in an area that's prone to flash flooding or storm damage, be sure to double check that you are covered.
Cold weather caution
Although you can't plan for the unexpected, there are ways to keep safe (and dry!)

Before a flood: Elevate washers, dryers and heating equipment to higher floors or secure platforms. Avoid storing valuable in the basement or first floor if it is prone to flooding.
During a flood: Turn off utilities at the main power switch. If waters begin to rise in your home, leave or move to upper floors. Do not attempt to walk or drive through flood areas.
Fire safety: One in five fires are caused by unattended electrical equipment, such as heaters. Make sure to turn off all appliances when you leave the house, including dishwashers and clothes dryers.
Clear your gutters: Clearing leaves and debris from your gutters can help reduce them from overflowing during heavy rains.
Trim tree branches: Regular trimming can prevent tree branches from breaking and landing on houses, cars and power lines.
Secure your outdoor furniture: Secure your outdoor furniture, garden tools and pot plants so they don't go flying about during blustery weather.
Prepare a storm kit: It's a good idea to keep an emergency kit handy complete with a torch, batteries, some perishable food, bottled water and medical supplies.
Check your fire equipment: An alarming number of home dwellers do not own a fire extinguisher, or know how to use one. It's essential to get to grips with basic firefighting equipment and keen an up-to-date firefighting kit handy around the house.

Find out whether your policy covers flood or storm damage to avoid your claim being washed out!