Smart tips so you can find the right income protection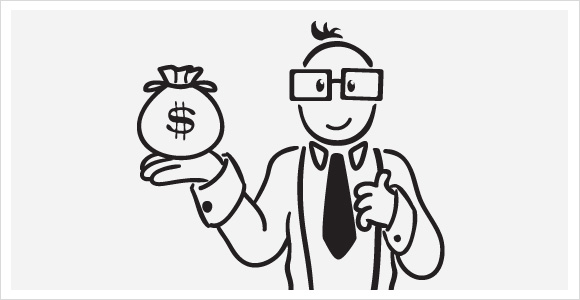 Our guidance is general and does not take into account your personal situation. Always consider your own situation and whether the guidance we provide is relevant to you before relying on. If in doubt, seek professional advice.
If you were injured or ill and forced to take time off work, could you cope with everyday expenses?
Nobody wants or expects these things to happen to them, but unfortunately accidents happen every day.Did you know that over 60% of Australians will be disabled for more than one month during their working life?*
Income protection can cover you if you can not longer work due to illness or injury.
There are dozens of income protection policies to choose from and it's difficult to know one which one will suit your needs and budget. That's why we have put together a simple guide so that you can find the right cover for your situation.
What is income protection?
Income protection will provide up to 75% or more of your salary, for the period of time while you are injured and cannot work, so you can continue to provide income for your family, pay for bills and mortgage payments.
Find the best income protection for you
Like any insurance policy you must make sure that you choose the policy that suits your individual needs rather than just go with the quote you are first given. The best way to do this is to fully understand the features and benefits of the policy. Each insurance company will have slightly different features so it's important to compare income insurance quotes to find the right deal for you. We offer the ability to compare quotes from 11 different insurers.
How much income protection do I need?
Before you buy income protection you must work out how much cover you will need and how much you can afford. You might not require so much insurance if you have a good amount of savings to fall back on or have accumulated annual leave. Obviously a basic income protection policy will not offer the same level of protection as a comprehensive policy. For example a policy that provides any occupation cover will cost less but it will not provide as much protection as an own occupation policy, but it might be a better level for your budget.
Work out the level of cover you might need by asking yourself these questions:
Do you think your income will increase in the future? If so, consider a stepped premium which goes up over time.
Can you get tax deductions? And will this be beneficial at tax time?
How would you cope financially if your spouse also had to take time off work to look after you? What could this do to the household income?
Do you need to consider childcare and other increased expenses like rehabilitation and medical expenses? Will the policy cover these additional costs?
Types of income protection
Agreed value or indemnity income protection
When you buy income protection you will need to decide whether you want agreed value or indemnity value income protection.
Agreed value is the amount of cover calculated at the time you purchase, rather than when you claim. Agreed value comes with a price – the premiums tend to be more expensive than indemnity value.
Indemnity value - the amount of cover you will receive is calculated on the income you earn at the time. If you are now earning less that when you first took out the policy your benefits might be reduced too.
Benefit period and waiting period
For some policies you may have the option to reduce the benefit and waiting period in your policy to make it more affordable.
Benefit period is the period of time your income protection payments are paid to you. This could be a set number of years or until you reach a certain age. Take the benefit for as long as it's available to you.
Waiting period is the period of time you have to wait before you're paid your monthly benefits. A longer waiting period may reduce the premium compared to what is paid for a shorter waiting period.
Here are some things to think about:
The longer your waiting period, the less you pay.
If you hardly use your sick leave, annual leave or long service - you could use this to cover costs during the waiting period. Be careful this could change from year to year.
Pick an insurer that excludes waiting periods for accidents.
Stepped, hybrid or level premiums
You can decide how you would like to pay your income protection premiums choosing either stepped or level premiums.
Stepped premium payments start low and increase over time. This might be a good option for people who do not have much budget now but expect their income to go up over time which will help pay for higher premiums.
Level premiums remain the same for the whole period of the policy.
Hybrid will start off as stepped but will level off after 10 years.
How are income protection quotes calculated?
There are many factors that will affect your income protection quotes:
Age: Unfortunately the older you get, the higher your premiums. This is because you are more likely to develop health issues later in life, and are therefore a higher risk to the insurer.
Occupation: If you work in a job which has high risks such as working with machinery you are likely to have higher premiums.
Health: You will pay more if you have any pre-existing medical conditions or if you are a smoker and the insurer is prepared to insure you for them. In these cases, often the insurer will load the premium.
Stepped and level premiums: Depending of what policy type you choose will have an effect on your premium.
Features of a good income protection policy
Every insurer will offer slightly different benefits, but to get the right income protection for you, compare the policies and decide what is most important to you.
Cover from day one: You can opt to start your cover from the day you buy your policy and skip the waiting period, but this will probably cost you extra.
Specified injury and illness: There are specified illnesses listed that you can get cover for such as a heart attack or broken bones.
Hospital confinement: You can opt to pay extra so you are covered immediately if you are suddenly admitted to hospital.
Accommodation and travel: If you are unwell or injured far away from your family, this extra benefit will cover the cost of your family member's accommodation and travel to visit you.
Home care: Cover for a full time carer.
Rehabilitation: An extra to cover the cost of your rehabilitation such as physiotherapy.
Why compare income protection insurance?
Your income protection quotes will vary depending on which insurer you pick – even if you are choosing similar products. Whether you choose basic or comprehensive income protection, everyone can benefit from doing an income protection comparison.
Save time and money and use our comparison engine to simply compare 11 income protection companies side by side in seconds.
Was this guide helpful? Want more information? Visit our guides for more help.
Or you can visit the Australian tax office who can provide you with further information on income protection insurance and deductions.
Compare, review and save on your income protection insurance now.
 *http://www.lifewise.org.au/facts-research