The ins and outs of product liability insurance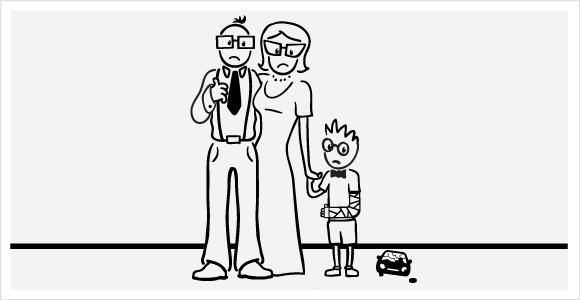 In a perfect world no one would be harmed by faulty machinery (or toys), software products would never infect a personal computer, and no one would ever get sick from purchasing expired food that a store owner forgot to take off the shelf. However, in the real world, unexpected problems arise. Not all products work as expected, and some may inadvertently cause damage to property or injury to customers or the public. While no manufacturer plans on supplying a product that may cause harm, mistakes do happen.
Businesses may be found liable for any damage, loss, or injury that one of their products causes. Battling a legal claim in court can damage, and in some cases cripple, a company financially. To protect against this liability, companies that provide a product use product liability insurance, also known as general liability coverage.
So what does product liability insurance cover?
According to Australian Consumer Law, when a company supplies a good that causes loss or damage, then a consumer can take the manufacturer to court. Losses that can be subject to legal action include personal injury, death, or economic loss from damage or destruction to personal property. A manufacturer can be sued for:
Manufacturing or production flaws
A design defect
Improper labeling or insufficient warning
If the consumer wins, then a business will not only have to face legal fees and court costs, but it will also have to pay compensation. In some cases, total expenses can be in the million dollar range. Product liability insurance covers all legal and court costs up to a certain limit.
Who needs it?
Any business that sells or supplies a product should consider a product liability insurance policy. Even with goods that appear completely harmless, the unexpected can happen. For example, a simple toy could be a danger to small children – without a proper warning label a manufacturer could be liable for any harm that comes to a child. A coffee table that breaks because of improper use could lead to an injury, damage to personal property, and possibly a legal claim.
Product liability, along with public liability insurance, are often included in a basic coverage package for businesses. This is because liability insurance is a fundamental essential for protecting against potential risks. Producers of the following goods are all types of companies that would need a product liability policy:
Software
Furniture
Clothing
Paper goods
Office supplies
Food products
Cleaning products
Lighting fixtures
Pools
Chemicals
Medical equipment
Tools
Vitamins
Toys
Electronics
Sport equipment
Manufacturers are not the only liable parties when it comes to a legal claim. Retailers, suppliers, and any business that offers the faulty product may potentially be drawn into a lawsuit.
How to find the right coverage
Product liability insurance is a key component of any company's risk management plan. It is important to find a policy that is well-suited to your particular professional needs. Compare the features and prices of different policies. Make sure you are clear on the limits that your policy provides. Are you looking for a policy that includes other business insurance essentials like public liability or professional indemnity insurance? If you are unsure how much coverage your business requires in order to be secure, talk to a licensed broker about your options.
No matter how positive a company's intentions, accidents still do happen. Having to defend against a liability claim is expensive. Being found liable and having to pay damages as well can be even worse. The costs can easily be high enough to ruin a business. Product liability insurance protects against this threat. No one expects the worst to happen, but having a plan in place just in case, takes the fear and worry out of running a business.
Other types of business insurance
No matter whether you're a small medium enterprise, or one of the big guys- every business needs protecting! From time-to-time unfortunate events occur at work that are out of your control; staff can get injured, websites may be hacked and businesses are sometimes sued. You can't always predict a company calamity but you can be prepared for the unexpected. See what other types of business insurance are available to your business today!