Beginners guide to home insurance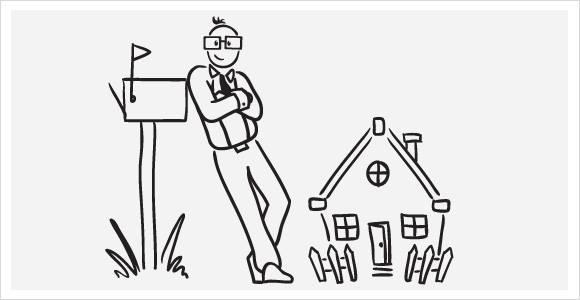 Your house is probably the biggest investment you will make in your life.
And after working so hard for so many years to keep a roof over your head, of course you want to protect it. But it's not just the house itself but everything inside it too.

Home insurance policy features
So, what does building and home contents insurance cover?
Fire
Flood
Storm
Lightning
Theft
Earthquake
Bursting, leaking or overflowing of water or liquid
Vandalism and malicious acts
Animal damage
Explosion
Riots or civil commotion
Additional benefits of home insurance to look out for:
New-for-old cover for Home and Contents
Legal liability cover from $10 - $20 million
Debris removal and temporary accommodation if your home is uninhabitable
Cover for jewellery or cameras when you are away from the home
Cover for your guest's damaged property
No claims discounts
Further discounts for buying both building and contents cover together
Replacement locks if you lose your keys
There are 2 main types of home insurance: Building insurance and home contents insurance.


Building insurance
Building insurance covers your bricks and mortar and protects your homefrom damage caused by events such as fire, smoke, storm, rainwater or run-off to name just a few.

How much cover do I need?
Buildings insurance covers the cost to repair your property from the damage and because of this, it can be difficult to decide what level of cover you need.
Many insurers have calculators on their websites which you can use to help you decide, but make sure you use one that asks questions about your property and doesn't just give generic answers.
If you're still unsure what cover you need, just make sure that you have enough protection to cover the cost of removing debris in a flood situation for example, or alternative accommodation if your house was not safe to stay in.
The worst thing that you can do is underestimate the level of cover you need. Insurance companies will have a set limit which they will insure you for. So if your repairs cost more than they have agreed to pay, you will have to pay the difference.
Make sure you also check your policies oftento see if you have enough cover as building costs tend to rise.

How do I chose a policy?
It's really important to read the fine print to truly understand what you are buying. One policy might seem like a great deal to start with, but after fully reading the Product Disclosure Statement (PDS) you might find hidden exclusions. With home insurance it is better to pay a little bit more and have more options.
The best advice we can give you is to buy the most cover you can at the best price, and make sure you pick an insurer with a good reputation. You can read reviews of Australia's top home insurers and see what past customers really think.
Home contents insurance
Home contents insurance covers you for loss or accidental damage to your belongings, whether you're living in your own home or renting.
Imagine coming home one day to find all your belongings gone. Could you afford to replace your whitegoods or electrical products at once if there was a fire or you were burgled? If the answer is no – then you need home contents insurance.

How much cover do I need?
It's hard to work out how much all your belongings are worth. A good idea is to walk around your house and make a list of all your belongings, then look online or in shops to see the cost of replacing all those items. That should be the amount you get home contents insurance for.

Tip: Home contents checklist
Keep a checklist of all your home contents, their value, model numbers, serial numbers, photographic proof of ownership, receipts and how much they would cost to replace – this will really help in the event of a fire or burglary.

High value items
Make sure you insure your valuable items such as jewellery or expensive furniture included on your policy. Insuring these high value items separately will ensure you are paid the full value if you need to make a claim. And remember to tell your insurer whenever you buy something new that's of significant value so your cover is up to date.

Portable items
You can also add cameras or mobile phones to your contents insurance so they are covered when you are away from home.

Only the named policy holder's belongings are insured
Most policies will only cover the person named on the insurance policy and family members living in the house. If you live in shared accommodation everybody in the house needs to get their own insurance for their things.

Home office
Home contents insurance should cover your home office equipment, but if you have a lot of electronic equipment it might be worth getting commercial insurance.
A good commercial policy will cover:
Tools of trade
Home office equipment
Fusion – equipment damaged by a power surge
Visitors' belongings
Loss of your credit card
Cash
Outdoor items, such as barbecues
Frozen food
How to save on your home insurance
There are certainly ways in which you can save on your home insurance such as comparing insurers and installing a burglar alarm. Here are a few tips from us:
Shop around and compare

It definitely pays to compare home insurance providers to find yourself a good deal. Insurers base quotes on their statistical claims data. So, if one in particular had a high number of claims from a certain area they might view it as high risk and therefore give higher premiums for that region, than another insurer.

Claims history

If you have not claimed on your insurance you should be entitled to a no claims discount on your premiums.

Security

Installing smoke alarms, burglar alarms, window locks and deadlocks will all help to reduce your premiums.

Excess

You can choose to increase your excess and therefore reduce the cost of your premiums.

Group discounts

You may be entitled to a discount if you buy more than one type of insurance with the same insurer.
Home insurance claims
It's important to be prepared so if the worst happens you have a successful claim. If your house has been burgled be sure to report it to the police immediately and get a copy of the report. Then contact your insurer who will file a claim for you and tell you what information you need to provide.
You don't want your claim rejected so try and follow these handy tips:
Duty of disclosure: Be honest with your insurer from the start – if you said you had deadlocks on your house for example and you didn't, your claim could be declined.

Proof of ownership: Have receipts for everything.

Exclusion clauses: If you have high value items get them insured separately otherwise if you claim and didn't specify them before they might not be covered.
How can I prove ownerships of my belongings?
Receipts
Credit card statements or cheque stubs
Valuations
Manufacturer guarantees or warranties
Photos or videos showing the goods
Statutory declarations from third parties who have seen you with the items
Your own statutory declaration
If your claim is rejected, try and find out why. You may be able to dispute the reason. If you strongly believe your claim should have been processed you can ask the insurer to reconsider and if you are still unhappy you can refer your complaint to the Insurance Ombudsman Service.
Home insurance FAQ's
I am living in a shared house - can I get home insurance?
Yes! But each individual in the house will need to get their own policy.
I have installed an alarm in my house – shall I tell my insurer?
Yes! Any changes in security is a good idea to notify your insurer – you might even get a discount.
I am about to renovate my kitchen - should I tell my insurer?
If you are improving your house which might increase its value then yes you should notify your insurance company. You might need to increase the amount you are insured for and it's important to have adequate cover for your home and belongings.
What is meant by a flood?
In home insurance terms you will be covered for overflowing water – natural or manmade from a waterway, stream, river, canal, reservoir, dam, lake, channel, storm water drain or water catchment system. You will be also be covered for loss or damage to your home buildings caused by storm and storm water overflow from gutters or from the area around the premises.
However you may not be covered for a storm surge where salt water from the ocean causes the flood. Always read the insurer's PDS to understand their exclusions.
Does home insurance cover damage from escaping water?
Yes! Many insurers include cover for water escaping suddenly fromplaces such asa swimming pool, roof gutters, their downpipes, sinks, baths, toilets and fixed plumbing as part of your home buildings insurance. With home contents insurance they will also cover damage by water escaping suddenly from appliances like washing machines, dishwashers, refrigerators or freezers.
Am I covered if my TV and other appliances are stolen?
Yes! You will be covered if you have home contents insurance with a sufficient level of cover and can prove ownership of the appliances.
Is my house covered if I there is a fire?
Yes! If you have home buildings insurance you will be covered for accidental fire.
Thanks for reading our beginners guide to home insurance. Did it provide you with enough information so you are ready to face the world of Home Insurance? Please feel free to share it with the people you connect with online.
See more home insurance guides and articles here.