Essential guide to life insurance Australia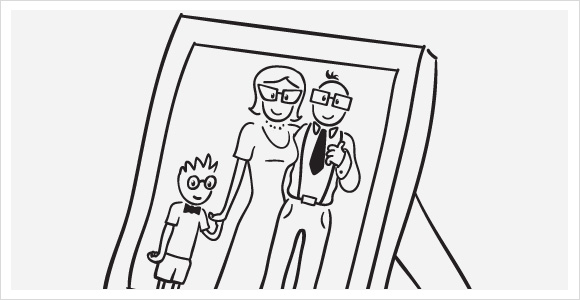 Our guidance is general and does not take into account your personal situation. Always consider your own situation and whether the guidance we provide is relevant to you before relying on. If in doubt, seek professional advice.
Did you know that the average life insurance premium costs less than most car insurance premiums?*
Life is unpredictable and we can't predict what's around the corner, but we can do everything in our power to protect our loved ones. Life insurance provides you with the peace of mind that comes from knowing you and your family will be protected in the event long-term illness, disability, or death.
In this guide you will find heaps of helpful information designed to help you find the right life insurance for your needs. Click on the following links to take you to the most important information for you.
Types of life insurance
How much life insurance is enough?
Do I need life insurance?
What affects life insurance costs?
Life insurance myths
Why compare life insurance?
Life insurance premiums

Types of life insurance
Life insurance
Most life insurance held by Australians pays your beneficiaries a lump sum payment in the event of your death. The benefit can be used to pay debts including mortgages and other loans to help family members to reduce the financial burden due to your death.

Imagine how your family would cope without your income. If you have expenses such as a mortgage, car repayments or school fees, then taking out a comprehensive life insurance policy is something you should strongly consider
Life Insurance is usually paid in one lump sum and may cover you up to a certain age. The premium is usually paid monthly or annually.
Total and permanent disability insurance (TPD)
Did you know over 60% of Australians will be disabled for more than one month during their working life.*
TPD covers you if you become disabled or have an illness that restricts you from caring for your family or engaging in other every day activities. Becoming totally and permanently disabled through illness or injury can have an enormous and debilitating impact on both your life and the life of those around you.TPD insurance can provide a lump sum that can be used for medical expenses rehab or health equipment or even just paying your debts or bills.
There are many different types of injuries that are usually covered including:
Quadriplegia
Paraplegia
Blindness
Deafness
Total and Permanent Loss of Use of Two Limbs
It won't happen to me! This is what everybody thinks, but accidents do happen and for peace of mind it is important to make sure that you and your family are protected.
Trauma Insurance
Trauma Insurance covers you if you are diagnosed with a serious condition, such as cancer or a heart attack, but are not terminally ill or permanently disabled. Benefits are often paid in a lump sum and can be used to help pay the medical expenses, or other bills, or rehabilitation. The conditions which the policy will cover are in the PDS, so it is important to check the details in that before you buy any trauma insurance policy.
Funeral insurance
Funeral insurance provides your loved ones with a lump sum to cover funeral costs in the event of your death.
Income protection
Is your family dependent on you? Losing the ability to earn an income due to injury or illness can be very stressful even for a temporary period.
Most Income income protection policies provides you with a weekly benefits of up to 75% of your income in the event that you can no longer work due to an accident, illness or major trauma. Income protection can pay bills, loan repayments and children's school fees without worry. A benefit of income protection is that it is tax deductable.
How much life insurance is enough?
There are many ways you can work out how much life insurance you might need. Financial advisors often recommend an amount that will cover 7- 10 years of salary. The recommended amount varies between financial advisors, Compare Insurance surveyed 12 advisors and a range between 7-10 times your salary was recommended.
But there isn't an exact answer. As with any insurance, it's usually about finding a balance between the cover you need and the cover you can afford.
Consider the size of your personal insurance benefits.
If it is too small then there may not be enough for important things, like your mortgage.
If it's too large and you have overinsured than the premiums you will have to pay may be a burden and if cancel it because you cannot afford it, this may leave your family expose
Plus, You may only need a smaller amount of life insurance/income protection if your children are now self-sufficient and/ or your partner can provide for themselves from their own income or assets.
Still need some help, you can also use our life insurance calculator to help you work out how much cover you'll need as a rule of thumb.
Remember, it is important to look at more than one insurance provider to find the right policy for you. If you're undecided after reading the PDS for each policy, seek professional advice. Reading life insurance reviews may assist by providing insights into other customers experiences with their provider.
The things to consider are:
The type of cover you need (life insurance, trauma cover, total and permanent disability, income protection
The amount of debt you have and how many years you need to meet these expenses
The gap between your needs and the amount of cover any insurance (if any) you already have
How your family would survive financially if your income discontinued. Are there assets or other income that could assist them?
How long your family would need this level of financial support if you died, became incapacitated, or suffered an illness or injury
Do I need life insurance?
Three in ten Australians (30%) say they do not have any form of personal life insurance (Source:TAL 2013 Financial Protection Index https://www.tal.com.au/tal-news-centre/media-releases/2013/february/4/index-reveals-financial-protection-insecurity)
A lot of Australians are uncertain when it comes to life insurance. We don't hesitate to insure our homes, cars, travel arrangements and health, but too often those closest to us are forgotten.
Life insurance is there to protect your family's financial security in the event of your death, incapacity or terminal illness.
Age and lifestyle don't matter – life insurance is an affordable way to ensure that the lifestyle you have worked so hard to provide for your loved ones is maintained, if something happens to you.
Start thinking about life insurance if:
You have dependents and might need to pay for education costs
You have debts or loans you want paid off e.g. mortgage
You own your own business and you want to make sure that the value of that business is protected
Your income pays for your dependents' living expenses
You don't have enough debt free assets to cover all loans and expenses
You want to maintain your family's way of living
What affects life insurance costs?
Age: Premiums tend to increase the older you get because premiums are stepped and as you age it is riskier for the insurer to provide the protection.
Gender: Men tend to have higher premiums for life insurance, due to health considerations and life expectancy
Pre-existing medical conditions: If you suffer from a hereditary disease you may have higher premiums or the insurer may exclude that condition because you are a higher risk to insure
Whether you smoke: If you smoke you will have higher premiums
Weight: If you are overweight the insurance company may view you as being higher risk and charge more. This also applies if your weight has changed significantly in the 12 months before you apply.
Lifestyle: If you are an adrenalin junkie who loves adventure sports you will most probably have higher premiums
Occupation: Jobs with high risks such as the mining industry can expect higher premiums
Life insurance myths
I don't have children so I don't need life insurance!
Life insurance is important for couples without children as well as single people. What about your own bills? What about protecting your income if you are injured? If you earn most of the household income you may want to leave your partner in a good financial position if you die, or need to consider how to cover medical expenses if you cannot work permanently or temporarily.
I am not the main breadwinner in the family!
You may not be the main earner but without your income your family or your partner will still be under financial strain, especially if there are added expenses.
Why compare life insurance?
It's free
You can compare different policies to assess your needs and budget
Make huge savings
Easy to use and efficient - all in 1 place
Like any type of insurance, there are many different companies offering life insurance. Make sure that the policy you choose is right for your needs by weighing up the benefits against the costs and not necessarily going for the cheapest life insurance premium.
It can be very time consuming shopping around the different websites for providers, so being able to see some of the options available to you in one place is huge time saver!
We have teamed up with 11 great Australian insurance brands to help you find the right policy that fits your needs. Simply use our quick and easy life insurance comparison tool.