Flash and Compare Insurance back to the Mountain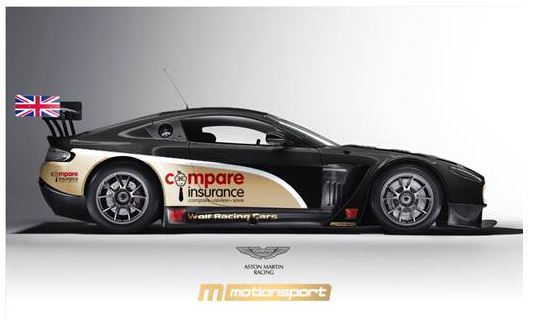 Australian Insurance comparison website Compareinsurance.com.au and Banbury based motorsport squad, Motionsport, are pleased to confirm that they will be returning to the Liqui-Moly Bathurst 12 hour taking place on 6th to 8th February 2015.
2015 marks the third attempt by the team at the notoriously harsh circuit. This year the team are confident competing in their Aston Martin V12 Vantage GT3.
Joining the team for the second consecutive year is 2012 BTCC Champion Gordon Shedden. "We certainly have unfinished business at Bathurst after last year! The Aston will be a fantastic car to have round the Mountain and it will be great to be at the sharp end."
Motionsport Team Principal Simon Phillips explains "It's great to confirm our plans for Bathurst again and we're grateful to the guys at Compareinsurance.com.au for helping make this happen. We wanted to move up to class A for this year and fight with the big boys in GT3. It's going to be so tough at the front, but the Aston is the weapon of choice and we've got some circuit knowledge. I can't wait."
John Gaw, Team Principal at Aston Martin Racing added "Motionsport is a great team with a good reputation so we're pleased they have added an Aston Martin V12 Vantage GT3 to their race car collection. Gordon Shedden has been talking to us for some time now so we are really pleased he is finally behind the wheel of one of our cars. We are a global brand with drivers from around the world but we are also dedicated to supporting young British talent to race at the top level. The Liqui-Moly Bathurst 12 Hour is fast becoming one of the top GT3 races in the world and we are looking forward to seeing what the Motionsport team can do there."
Director of Compareinsurance.com.au Natalie Ball "We're thrilled to be involved once again in the Liqui-Moly Bathurst 12 hour. It's a very exciting partnership for us with the race being so iconic in the Australian car community. We saw this sponsorship opportunity as a way to flag our car insurance services to those passionate about cars. Cars don't come cheap and for many Australians their car is their daily commute, a weekend escape, or their pride and joy, so getting the right insurance is important."
Follow the race live on www.bathurst12hour.com.au featuring commentary from Radio Le Mans.
ABOUT MOTIONSPORT
Motionsport are a competitive professional race team based in "Motorsport Valley" Banbury, UK, currently campaigning in various European endurance championships. Motionsport are the UK distributor for Wolf Racing Cars.