Mobile and Smartphone insurance comparison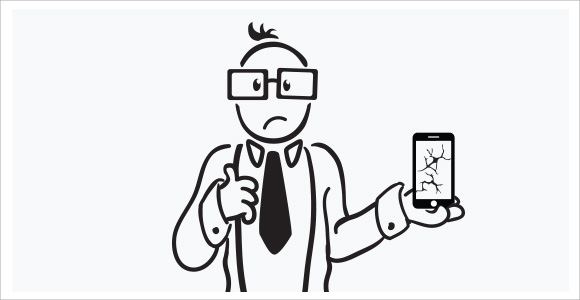 Despite their popularity, mobile devices don't come cheap and we rely on them in our everyday lives. Dropped, damaged, lost or stolen, it can happen all too easily. Yet, can be a very costly exercise to repair or replace.

You may have even locked yourself into a long-term contract to pay for one. A contract you'll have to keep paying, even if you no longer have the phone.

For a small monthly fee, it may pay to insure your smartphone... especially for the accident-prone!
With a myriad of options to choose from, it can be tricky to know which way to go. We break down the options available to help you decide on the best cover for your device.

In Australia, there are four main options available:
Getting insurance through your mobile phone company or telco provider
Buying a standalone policy.
As an inclusion or optional extra to your home and contents insurance policy
As part of credit card purchase protection insurance​
Mobile phone insurance through your telco
Most mobile providers offer insurance for your smartphone or device. Depending on where you bought your gadget, you should be able to add insurance under your contract either as an add-on to the cost of your monthly plan or separately if you decide you need it later on.

Often the telcos will suggest that you sign-up for the insurance by offering a certain number of days cover for free and a no-obligation cooling-off period. The reliance is then on you to cancel it within the cooling-off period. This is a good way to have immediate cover and usually gives you plenty of time to shop around and cancel it if you've found a better option.

You can expect to pay around $15 per month with costs ranging from $10 to $20 per month depending upon your device and provider. There are no lock-in contracts or termination fees so you can cancel the insurance at any time.
Optus Device Protect Insurance
Optus mobile insurance is only available when purchasing a new mobile from Optus. The premium cost varies depending upon whether you have a standard device or a premium device. Most new phones that cost upwards of $600 would be considered premium devices. It makes sense that the higher the value the more it costs to insure.

For example, premium devices include the iPhone X up to the iPhone 13 Pro Max and all the models in-between. Samsung Galaxy S10 through to S21 as well as the latest Galaxy Folds and Flips. The premium device list continues to expand as our smartphones become smarter and more expensive, so best you check where your model sits with Optus.

Regardless of whether you've got a premium or standard device, you'll receive the same coverage. Varying excesses apply in the

Below is a summary of the premiums and the excesses that apply.

Optus Device Protect
Standard devices
Premium devices
Monthly premium
$14
$18
Cover for accidental damage
Yes
Yes
Cover if lost or stolen
Yes
Yes
Limit of liability (the most you are covered for)
$2,000
$3,000
Excess
- Accidental damage (repair)
- Lost or stolen (replacement)
$100
$200
$175
$350
Unauthorised calls and usage
Up to $600
Up to $600
​
For full details, download a copy of the Product Disclosure Statement (PDS) and Target Market Determination (TMD) to see if the product is right for you.

Device Protect Insurance will not be available to customers purchasing devices through Optus from 05/10/21. You can learn more about Optus' legacy insurance policies here.

Telstra Upgrade & Protect

Telstra's latest insurance option Upgrade & Protect offers a simple solution for frequent phone upgraders and phone fumblers.

If you're a serial techie that buys the most expensive phone on the market and likes to upgrade to the next shiny model at the 12-month mark, Upgrade & Protect could make sense for you.

In terms of acting as an insurance policy, Upgrade & Protect has limited coverage (as it excludes lost or stolen devices) and favours pricier devices. Basically, if you break your phone, you can simply pay an "excess" of $249 and you'll get a new phone, however, you will be under contract for another 24 months. Insurance policies don't usually require you to commit to buying a new phone after paying the excess.

If you have a pricey model that costs in the realm of $500 to repair a smashed screen, which let's face it, is common these days, getting a new phone for $249 is a bargain. You can make two "damaged device upgrades" every 12 months.

Telstra Upgrade & Protect
All devices
Monthly premium
$15
Cover for accidental damage
Yes
Cover if lost or stolen
No
Limit of liability (the most you are covered for)
depends on device
Redemption Fee
- Phone returned in good working order and undamaged
- Damaged phone
$99
$249
​For full details, download a copy of their Critical Information Summary to see if the product is right for you.

Vodafone Insurance
Vodafone offers two monthly insurance plans, Keep Talking Insurance and Keep Talking Plus Insurance. Keep Talking costs $10 per month to cover accidental damage. Keep Talking Plus costs $15 per month and offers a broader range of cover that includes cover not only if you drop and damage your phone, but also if it's lost or stolen. It makes sense to consider how you use your phone and whether you're after accidental damage only, or also for it being lost or stolen.

Keep Talking
Devices valued up to $1,999.99
Devices valued from $2,000 - $3,000
Monthly premium
$10
$10
Cover for accidental damage
Yes
Yes
Cover if lost or stolen
No
No
Limit of liability (the most you are covered for)
$1,999
$3,000
Excess
- Repairs excess
- Refurbishment replacement

$125
$200
$150
$300

Unauthorised calls & usage
No
No
Keep Talking Plus
Devices up to $999.99
Devices up to $1,999.99
Devices from
$2,000 - $3,000
Monthly premium
$15
$15
$15
Accidental damage
Yes
Yes
Yes
Lost or stolen
Yes
Yes
Yes
Limit of liability (the most you are covered for)
$1,000
$2,000
$3,000
Excess
- Repairs excess
- Refurbished replacement
- New replacement device
- Cash settlement
$50
$75
$125
$125
$200
$300
$150
$300
$400
Unauthorised calls & usage
Up to $500
Up to $500
Up to $500

Effective from 5 October 2021, Vodafone ceased selling Vodafone Keep Talking Insurance products. However, if you signed up for a plan prior to this date, you can learn more here.
Standalone gadget insurance providers
If you're looking for a standalone smartphone insurance provider, check out the following:
Phoneinsure
Phoneinsure offers 12 months coverage for Theft, Loss and Accidental Damage for mobile handsets and tablet PCs up to the value of $1,000.


-Underwritten by Hollard
-Brand new replacement handsets or tablets (as opposed to refurbished or used items).
-Handsets more than 31 days old are not covered within the first 14 days of insurance purchase
Covertec
-Premium is based on the value of your smartphone
-Underwritten by Chubb Insurance Company of Australia
- Cover for burglary of or damage to iPhones and other PDA's
-Cover your devices overseas for a maximum period of 28 days
-Excess of $100 excess applies
-Replacements are of equal value to your original device. Alternately you may receive a cash settlement based on the original purchase price. You can also choose to cover any necessary expenses incurred in recovering any lost electronic data.
AppleCare Protection Plan
IPhone owners whose warranties have run-out can purchase an additional year of warranty under the AppleCare Protection Plan.
- Premium of $99 for two years
-Cover for breakdown, mechanical failure or defects to the phone
-Technical phone support for two years
-Express replacement service and cover for overseas repair and replacement costs
-Service does not cover you for loss or theft of your iPhone. Some accidental damages may be covered

Apple also now has the option of AppleCare+ for an additional cost. This gives you a two-year warranty, with telephone technical support for two years, an express replacement service for damaged iPhones, and coverage for up to two incidents of accidental damage. Repairs and replacements are also HEAVILY discounted for those with AppleCare+.
Mobile Rhino
-Yearly premium: $129
-Cover for two replacement phones or $1,000 worth of merchandise, whichever is the lesser
-$99 excess
-Covers lost phones, theft and accidental damage
-Replacement handsets may be reconditioned or refurbished

Big Giraffe Gadget Cover

Brightside Cover

Included or added to your Contents insurance
A cost-effective way to insure your phone may be to check your home and contents insurance policy. Your phone may be automatically covered in and around your home up to the standard per item limits. You should consider what this limit is and whether it is enough to replace your smarphone if necessary. A phone call to your insurer is a quick way to assess whether you have adequate cover under your policy.

In the instance that it's not covered, most providers have options to add this on to your policy for an additional premium.

One of the downfalls of contents insurance is that it often excludes accidental damage such as a smashed screen from when fumbling fingers cause it to hit the ground, or that all too common drop in the loo.

It can also exclude use away from the home. If you're planning to take your phone on a trip overseas, you may be able to extend the cover by paying an additional preium. Alternatively you may be able to get it covered under your travel insurance policy.
It's important to review the Product Disclosure Statement (PDS) of your policy to understand policy inclusions, limitations and exclusions and consider these along with your phone's use and how accident prone you are.
Phone malfunctions and warranty
Most high-value tech gadgets, including smartphones, come with some sort of warranty that covers defects, malfunction and breakdown for a limited period. This is usually between 12 to 24 months but it won't offer the same type of cover as insurance would. For instance, a warranty won't cover your device for things like accidental damage, smashed screens or water damage.

Regardless of whether there is a warranty included, if you believe that your device is faulty, there is also a consumer guarantee. Phone manufacturers and telco providers must ensure the goods they sell are fit for purpose, have the same qualities and level of performance that have been advertised or promised by the seller. If any of these conditions are breached, the Australian Consumer and Competitions Commission (ACCC) can step in on your behalf.

Smashes and swims
We've all been there. Whether it's due to an impromptu swim in the bath, a drop in the loo, or a drop on hard concrete; phones and tablets can only handle so much.
If your nerves (like your phone screen/s) have been shattered by one too many smartphone mishaps, it may be time to invest in an insurance plan.

The two most frequent damage claims are usually due to broken screens or damage from being dropped onto a hard surface (or into a body of water).
Unlike a phone warranty, phone insurance provides cover for accidental damages. Physical damages are by far the most common cause of phone breakages.

So is phone insurance worth it?
These days, smartphones are expensive and have become fully integrated into our daily lives. Having a plan for when your phone hits the hay is always a good idea. It really comes down to the value of your device and its expected use. If your device is on the premium end, it is worth undertaking a thorough examination of your options. You should considering the policy terms along with your expectations to avoid disappointment and unwanted financial stress.

Here's a few pointers on what to look out for and potential reasons that a claim may be rejected:

Worldwide cover. If you travel overseas, be sure that your plan covers you internationally and not just within Australia. In the case of contents insurance, make sure it's covered for use outside the home.

You are unable to prove your purchase. In the event of a claim whether you bought your phone outright or you're on a plan, you're likely to have to prove ownership. This could be the original purchase reciept or in form of a contract with you phone provider.

Consider the excess and the cost of your plan against your device. If your device is only worth $400 and the excess for a claim is $250. Paying an additional $15 per month for insurance may not be a sensible choice. Particularly as the device ages, unless it incorporates a phone upgrade.

The cause of the damage. If the damage appears to be purposeful, or because of neglect where you fail to take reasonable steps to avoid (or minimise) your loss you're unlikely to be covered. For example, if you throw your phone on the ground in an angry rage, chances are it won't be covered. If you accidentlally dropped your phone in the street, you'd likely be covered under accidental damage.

Breach of your contract. Your insurance provider suspects that you have engaged in any fraud or misuse of the insurance.


Time of purchase and insurance uptake. There are often time limits on when you a policy can be purchased. This is particuarly true for insurance purchased from the manufacturer or telco provider. Most policies must be purchased within 14 to 60 days of buying the device, so make sure you don't let too much time lapse before obtaining cover.

Cancellation Terms. Most policies allow you to cancel at any time, so you're not locked in to a contract. Others will have a 14 days cooling off period, where you can be refunded any premium you've paid if you change your mind.

There will be other conditions to your policy so take the time to understand the fine print. Consider the type of losses covered, and what type of replacement you'll be receiving. And as a final note, keep your phone well away from water sources or back pockets when nature calls.