Mobile phone insurance comparison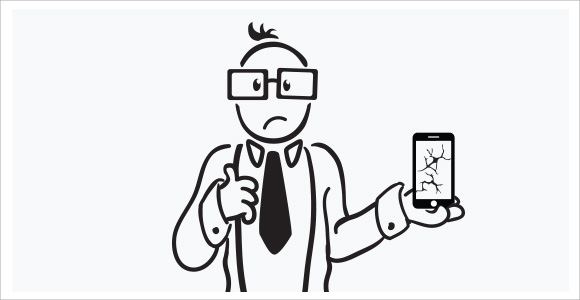 Despite their popularity, mobile devices don't come cheap. Just as you'd insure an expensive camera, it is just as important to protect your smartphone. If you need to buy a new iPhone after yours breaks you could be looking at an out of pocket cost of $500 and up, or a repair bill of $300 without a warranty. For a small monthly fee, it may pay to insure your smartphone... especially for the accident prone!
However, with a myriad of options to choose from, it can be tricky to know which phone insurance to purchase. Compareinsurance.com.au helps Australian phone lovers discover the different options available within the gadget insurance market.
Smashes and swims
We've all been there. Whether it's due to an impromptu swim in the bath or a drop on hard concrete; phones and tablets can only handle so much.
If your nerves (like your phone screen/s) have been shattered by one too many smartphone mishaps, it may be time to invest in an insurance plan.
Depending on where you bought your gadget, you should be able to purchase insurance directly from your service provider. You can usually buy cover as an additional fee on top of your monthly mobile plan, or separately if you decide you need it later on.
Unlike a phone warranty, phone insurance provides cover for accidental damages. Physical damages are by far the most common cause of phone breakages. And as you'd expect, the two most frequent damage claims are usually due to broken screens or damage from being dropped onto a hard surface or into a body of water). Such damages would be covered after the payment of an excess (this can range anywhere from $50 to $220).
Compare mobile phone insurance providers
Telstra StayConnected Plus
Telstra's StayConnected Plus program has two levels of coverage, StayConnected and StayConnected Plus. Both offer 'a new or refurbished' device which is of the same or similar model as your old device.
Telstra StayConnected
-Monthly premium: $13
- Up to two handset replacements within a 12-month period.
-An excess to replace your phone can range from $140, $190 or $220 depending on your device.
-Service can be cancelled at any time.
-2GB of cloud backup
Telstra StayConnected Plus
StayConnected Plus offers all the same features as StayConnected with a few additions:
-Monthly premium: $15
-Mobile Tech Support and access to a data backup and restore service
-2GB of cloud backup plus
- Mobile Security for phones and tablets
Optus Insurance Plus
Optus Mobile Insurance is only available when purchasing a new mobile from Optus. Cover levels range from Standard Insurance for cheaper phones and Smart Insurance for the more expensive such as iPhones and premium smartphones such as the HTC Dream.
Optus Standard Insurance
-Monthly premium: $8.99
-Cover in the event of theft, loss or accidental damage (no cover for electronic breakdown or accessories)
-Cover for up to $800 with reimbursement for $300 worth of calls if your phone is lost or stolen
Optus Smart Insurance
This plan is sold exclusively for iPhones and the HTC Dream.
- Monthly premium: $13.99
- Cover for electronic breakdown (for a year after the phone's warranty expires) along with theft, loss or accidental damage
- Covers phones both in Australia and overseas for up to $2,000
- Additional $600 for unauthorised calls in addition to cover for related phone accessories
- $100 excess applies for repairs along with a $250 fee for replacement phones
Vodafone Cover Me
-Monthly premium: $11
-Underwritten by ACE Insurance Limited
-Provides customers with a repaired or replaced phone or tablet in the event of loss, theft or accidental damage (up to three times a year).
-Insured up to the value of $1,700 along with $100 towards damaged accessories.
-$500 worth of unauthorised calls in the case of theft or accidental loss
-$300 for the hire or temporary replacement of a device when overseas.
Virgin Mobile Insurance
-Monthly premium: $9.95
-Underwritten by Risk Insure Pty Ltd
-Provides repairs or replacement for lost, stolen or damaged phones
- Will cover up to $5,000 per claim
- $1,250 of unauthorised calls if the phone is lost or stolen
-Up to $500 in temporary replacement fees whilst overseas
-$200 excess for iPhones and $125 for any other smartphone
Compare standalone phone insurance providers
If you're looking for a standalone smartphone insurance provider, check out the following:
Phoneinsure
-Yearly premium: $89
-Underwritten by Hollard
-Brand new replacement handsets or tablets (as opposed to refurbished or used items).
- Cover for handsets or tablet
-Will cover up to $1,000 for theft, loss or accidental damage
-Handsets or tablets can only be insured within six months of purchase
-Handsets more than 31 days old are not covered within the first 14 days of insurance purchase
Covertec
-Premium is based on the value of your smartphone
-Underwritten by Chubb Insurance Company of Australia
- Cover for burglary of or damage to iPhones and other PDA's
-Cover your devices overseas for a maximum period of 28 days
-Excess of $100 excess applies
-Replacements are of equal value to your original device. Alternately you may receive a cash settlement based on the original purchase price. You can also choose to cover any necessary expenses incurred in recovering any lost electronic data.
AppleCare Protection Plan
IPhone owners whose warranties have run-out can purchase an additional year of warranty under the AppleCare Protection Plan.
- Premium of $99 for two years
-Cover for breakdown, mechanical failure or defects to the phone
-Technical phone support for two years
-Express replacement service and cover for overseas repair and replacement costs
-Service does not cover you for loss or theft of your iPhone. Some accidental damages may be covered
Mobile Rhino
-Yearly premium: $129
-Cover for two replacement phones or $1,000 worth of merchandise, whichever is the lesser
-$99 excess
-Covers lost phones, theft and accidental damage
-Replacement handsets may be reconditioned or refurbished
So is phone insurance worth it?
Whilst a back-up plan is always useful should your phone hit the hay, its worth under taking a thorough examination of your policy before you purchase an insurance plan.

Keep in mind that phone manufacturers are not necessarily obliged to provide you with a refund or replacement. Your claim could be rejected for any one of the following reasons:
You are unable to prove your purchase, the damage appears to be purposeful, or because of neglect where you fail to take reasonable steps to avoid (or minimise) your loss.


Your insurance provider suspects that you have engaged in any fraud or misuse of the insurance.


Your lost Registered Device can be located using the alarm or location function. You also may not be eligible
for a replacement if a functionality issue can be addressed with basic instructions.


Too much time has lapsed in between purchasing your phone and obtaining cover. In order for your insurance to be validated you will have to register your new mobile within a specified number of days of purchase.
There may be other conditions to your policy so take the time to understand the fine print. Consider the type of losses covered, and what type of replacement you'll be receiving. And as a final note, keep your phone well away from water sources or back pockets. You have been warned!