Need ski insurance? Snow problem!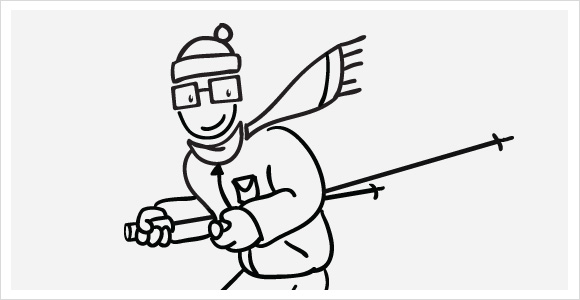 Don't be a dope, compare ski insurance for the slopes!
Shoop shoop… shoop shoop… There's nothing more exciting than weaving through the trees on untouched powder, so don't let a slip on the slopes ruin your winter holiday.
Whether it's a ski season in Austria, a month of powder in Canada or a weekend away in Australia, ski holidays have their fair share of risk, so it's important to make sure that you have adequate snow-sports cover.
Many companies have restrictions on ski and snowboarding holidays, so always double check that you have the right cover before you leave home, as many companies will allow you to purchase additional snow-sports options.
You can use our ski insurance comparison to compare several insurers with specific ski and snowboard travel insurance policies, so that you'll be able to ski stress free!
Would you believe helicopter evacuation could cost you more than $10,000! Could you afford to pay a huge bill like that? Find out what is and isn't covered...
So what's covered in ski insurance

?
A ski policy will generally cover you for the usual benefits (like cancellation, luggage, flights, etc.), as well as some added specific snow-sports benefits, such as:
Emergency medical treatment: Ski injuries can happen in the blink of an eye, incurring medical costs that can be steeper than the scariest black run. A winter sports policy will cover you for medical treatment required when overseas.
Emergency rescue: The cost of skidoo/helicopter evacuation from the mountain can cost more than $10,000. Make sure your policy includes cover for this, and find out whether there are restrictions on where you can ski (on/off-piste, outside resort boundaries, etc.)
Snow-sports equipment: With an adequate winter sports travel insurance policy, you can be covered for loss, theft and damage of your own ski/snowboard gear, and also hire of replacement gear if something happens to your own equipment.
Ski pack: Many pre-booked ski holidays include hundreds of dollars spent of lift passes, tuition fees and equipment hire. A winter sports policy should cover you for these things in case you get sick, are injured, or your ski pack is stolen.
Piste closure: If your pre-booked resort is closed, a winter sports policy should cover you to travel to an alternative resort or reimburse your unused lift passes in the event of piste closure.
Bad weather and avalanche closure: The weather in snowy mountain regions can be extremely unpredictable, so a snow sports policy should also include cover for out of pocket expenses incurred in bad weather, snowstorms or avalanches.
What's not covered by ski insurance?
When you are purchasing a winter sports insurance package, make sure you always read the Product Disclosure Statement so you know what activities will be excluded from the policy, if any.
Extreme sports and high risk activities: Many policies will only cover you for recreational skiing and snowboarding. They may exclude other activities such as heli-skiing/boarding, cat skiing, tobogganing, ice hockey and racing. This varies between insurers so always read the fine print before you buy.
Traveling out of season: Some insurers may exclude cover for things like bad weather or piste closure when outside the traditional skiing seasons for that particular hemisphere. If you are travelling particularly early or late in a season, double check with your insurer.
Out of bounds: Some insurers may cover you while skiing off-piste, but only if you stay within the resort boundaries. This is usually because the resort's emergency rescue teams do not work outside the boundaries, so stay well within the boundary ropes!
Under the influence: While a warm mug of glühwein may be the best thing to warm you up during a cold day on the slopes, make sure you don't overdo it! Many insurers will exclude medical claims if you have an accident while intoxicated.
Don't cut corners with your ski insurance or you might end up paying more later. Find a great deal by comparing some of Australia's insurers and all different levels of cover today!
Compare ski insurance for free today…On Yours Marks, Get Skiing, Compare.