Get the best cruise travel insurance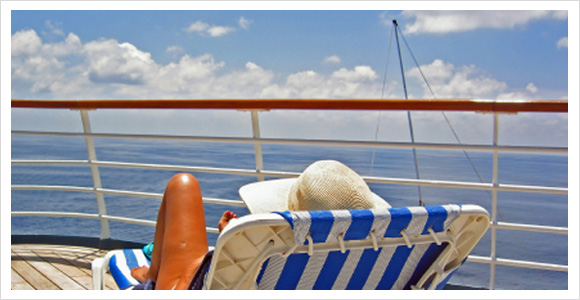 Aye Aye captain… Get the right cruise travel insurance for your trip by following our top tips!

Cruising the high seas is sure to please, with something on offer for everyone. Forget lugging your heavy suitcase around and queuing two hours for bus tickets; cruises combine the excitement of seeing new destinations every day, with the luxury of sleeping in the same bed every night and only unpacking your suitcase once! And what's better than a drink on the deck with the wind in your hair!?
However, going on a cruise isn't always smooth sailing…
These days going on a cruise isn't just about lying on the deck catching rays on the sun-lounger- there are a heap of activities you can partake in such as zip-lining, climbing walls, water slides, swimming pools and even surf machines! These are all great fun but also come with their fair share of risks.

Avoid spoiling your trip and letting the smallest things go wrong by simply getting the right cover. Cruise insurance can cover your adventure activities, cancellations due to bad weather, pre-existing medical conditions, medical evacuation, rental hire excess and much more.

Here are a few things to look out for...

Cruise ships do not provide Medicare treatment
What many travellers don't realise is that even if your cruise is not leaving Australian waters, you are not covered by Medicare or your private health insurance once you have left port. If you haven't purchased appropriate cover, you could end up spending thousands of dollars on emergency evacuation back to the mainland in the event of an accident or medical emergency.

While you may be a perfectly fit and healthy person, you never know what unexpected medical emergency might happen, from sea sickness to slipping over on the deck. Treatments, consultations and medications on board cruise ships are charged at private hospital rates; so don't ignore insurance on the basis of being "healthy". Cruise insurance is crucial to cover you for accidents, illness and injury.
What cruise insurance shall I buy?
When selecting travel insurance for cruises, the most important thing is to double check that your insurer doesn't require an additional loading for cruise holidays. Many insurers will cover cruises automatically, but some require a specific 'cruise' option to be selected.
Which destination should I pick?
You should also be careful when selecting the destination. Even if the cruise is not leaving Australian waters, you won't be covered by domestic policies as they usually exclude medical cover. If your cruise is going around the Pacific Islands but stopping in Hawaii for a day, you will need to make sure you have insurance that will cover you in America. If your cruise is heading up to Indonesia or South East Asia, you should double check that all the countries you are stopping in are covered by the policy.
Extras
If you plan on participating in adventure sports or water sports such as surfing, scuba diving and windsurfing, you should make sure that your insurer would cover these activities too.
Find cheap cruise insurance
A good way to find a cheap travel insurance policy that won't break the budget is to do an online comparison of quotes, and then compare the top two or three quotes for the level of cover you're looking for. Use compareinsurance.com.au to compare cruise insurance policies in seconds.
Essentials

Make sure that you are covered for emergency evacuation from ship to shore, and double check if there is an excess that would void small claims for things like seasickness.

Now what? Once your insurance is sorted, you can relax on board and take in the beautiful ocean scenery without having to worry about a thing!

Compare cruise insurance policies now. On Yours Marks, Get Smart, Compare.
"Cruising has two pleasures. One is to go out in wider waters from a sheltered place. The other is to go into a sheltered place from wider waters." Howard Bloomfield, Author, Sailing to the sun