Seniors travel insurance for the over 50's, 60's, 70's and more!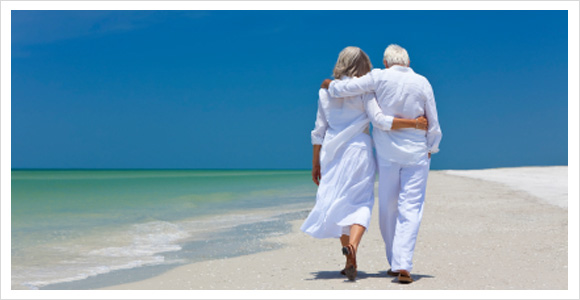 Getting the right seniors travel insurance is vital, whether you're going on a trip within Australia or overseas!
Irrespective of how active you are, insurers add significant age loadings to policies and may limit the levels of cover that are available to elderly travellers. So even if you are fitter than most and see yourself as a young at heart traveller, you will find that your travel insurance quotes are higher than younger holiday makers.
As we get older, we are perceived by insurers to be a higher risk and for this reason, seniors will generally pay more for their travel insurance. For example, for a 2 week trip to Europe a 50 year old can expect to pay $75 upwards for their comprehensive travel insurance policy, a 60 year old can expect to pay $85 upwards, a 70 year old can expect to pay $94 upwards and for those over 80 years, the cheapest comprehensive policy starts at $200.
But it's not all doom and gloom.
Insurance comparison websites make it easy to compare several policies at once to ensure that you are getting a good deal on your mature traveller insurance.
What type of seniors policy should I buy?
Level of cover - There are 3 main levels of cover you can choose from when choosing a policy - basic (or medical cover only), mid-range and comprehensive. Each level is designed to suit the needs of different travellers. You should pick the cover that best suits the type of holiday and activities you have planned. Don't just buy the cheapest and first policy you find, as you might miss out on vital cover.
Type of policy - You can also choose between single trip policies which can cover you for just one day up to a whole year; or annual multi trip policies which cover you for every trip you make over the course of a year internationally and domestically. If you no longer work and find that you are travelling often, you can save by purchasing an annual multi trip policy rather than buying an individual policy each time.
If you do buy an annual multi trip policy remember to check the limits on the maximum trip length as these tend to vary from 15 days to 90 days per trip.
Pre-existing conditions – what's covered?
The older we get, the more cracks that tend to appear, and it can be difficult to find a policy that will cover you for your pre-existing medical conditions.
Seniors travel insurance exists to cover for the unforseen, not conditions you're already aware of.
Insurers will have a list of pre-existing medical conditions (explained in their product disclosure statement) that are automatically covered for free. These tend to be things like osteoporosis, cataracts, mild diabetes and high blood pressure.
For more serious conditions you might have to complete a medical assessment. And irrelevant of how healthy you are, some insurers will require a medical form if you've reach a certain vintage age in life.
Even if you have been denied cover for your current condition, you'll still be completely covered for all unrelated medical emergencies.
Conditions that are very rarely covered include mental illness, cancer, alcohol or drug addiction or terminal illness.
Good news - Allianz recently advised that Warfarin (including Coumadin. Jantoven, Marevan and Waran use is no longer a general exclusion within their products. They will now assess each condition on the application, so if you don't reply on it heavily you may now be able to get cover.
It's vital that you read the insurer's Product Disclosure Statement (known as a PDS), to find out whether or not your condition is covered. If you're unsure you should always give them a call.
Sports and activities cover
Young at heart? If you love the outdoors and adventure. Make sure that all the activities you have planned are covered, as some insurers don't cover for all.
Activities that are usually covered include bike riding, kayaking, swimming, trekking, recreational sports and surfing.
Activities that are sometimes covered with certain terms and conditions applied include abseiling, rock climbing, heli-skiing, off shore sailing, bungy jumping and scuba diving.
Activities that are never covered include motor racing, base-jumping and riding a motorbike with a high engine capacity.
Important information about cruise holidays
What many people don't realise is that even if you're cruising Australian waters, once your cruise ship has left port, you are no longer covered for hospital or medical expenses by Medicare or your usual private health care provider. So if you're going on an Australian cruise you need to pick Pacific as your destination.
Trips around Australia
Perhaps you don't go overseas as much as you used to. Another thing to keep in mind is that policies are available for domestic trips too!
Many people don't even consider purchasing insurance for a trip within Australia, but there are some fantastic domestic policies out there that will cover things such as cancellation fees, rental vehicle excesses and luggage. If you are hiring a car or campervan and travelling around Australia, even just a small crash may end up costing you a few thousand dollars, so a seniors domestic policy could come in really handy!
Your seniors policy doesn't have to cost the earth!
Buy travel insurance direct and save - If you have always gone to your travel agent to buy your seniors insurance with your holiday, it's time to change! Did you know that travel agents often charge 50% extra commission on the price of the insurance? You'll make significant savings if you buy travel insurance direct with a travel insurer instead. You can use their website or give them a call directly. Better still, you can…
Compare policies and save - Using a comparison website like ours you can easily compare multiple policies online. Making it really easy to see who offers the most cover at the best price. You just need to know the destination, dates of travel, who is going and the ages of the travellers. You will get plenty quotes to compare all in one place in less than 1 minute.
Still not sure which insurance provider to go with?
One of the best ways to find out if an insurer is reputable is word of mouth. Ask friends or research other people's experience by reading travel insurance reviews.
You can read past customer reviews on our site in a jiffy. See how Aussies rate their insurers' level of customer service, value for money and claims experience before you buy!
Buy ASAP to qualify for cancellation cover
In your later years, you never know what might happen out of the blue. So as soon as you've paid for your holiday you should buy your seniors travel insurance too. That way if anything unexpected happens (and you can no longer travel) your travel insurance cancellation benefits would cover you for any losses to do with pre-paid tours, accommodation and/or flights.
Take your grandchildren with you for free!
In most policies dependent children and grandchildren (under 21 and not in full time employment) will be covered for free when named in your policy. The number of grandchildren that can be covered for free will vary from insurer to insurer.
Read the small print
As an elderly traveller it is vital to read the policy wording to understand when you're covered and any exclusions that may apply. If you are unsure of anything, you can always contact the provider directly.
Can I buy a policy at any age?
Yes! A few companies out there have age limits, but others will insure you up until the age of 130!!!
The importance of seniors travel insurance
Having the right seniors travel insurance for your holiday can really change how your trip turns out. Regardless of whether you travel regularly or are planning the trip of a life time, the unexpected may happen and being on the end of exposed risk could see your holiday end in financial ruin. Travel insurance gives you the freedom to focus on your holiday and provides loved ones back home the peace of mind that should anything happen you're covered.
Compare seniors travel insurance policies today to find the right cover for your next trip.
On Yours Marks, Get Smart, Compare!