Classic car insurance - cover for cars with vintage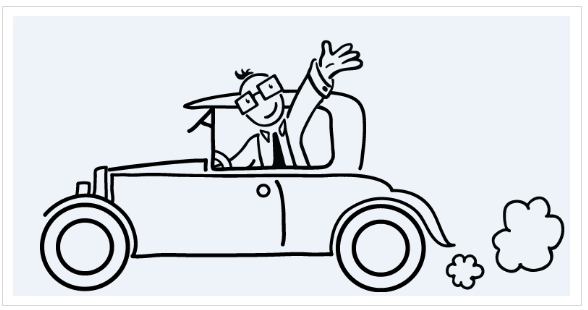 Lets' face it your classic car is your pride and joy, and you probably want to keep it that way!
Owning a classic car a big deal and, after spending your hard earned money on your dream machine, you need to make sure you are protected in the event of an accident.
Now being that it's your most favourite toy, we're sure you wouldn't intentionally leave it in harm's way. But you shouldn't assume that a standard car insurance policy will necessarily cover your beloved car.
But there's no need to blow a gasket; with classic car insurance you can relax knowing your safely insured. Finding classic car insurance shouldn't grind your gears, we make it wheel easy to find cover!
I love my car but is it a classic?
To a proud car owner, their car is always a classic. Unfortunately, an insurer might not agree. The definition of a classic car varies between insurance companies, but any car which is over 15 years old usually tends to be.
Even if you've made modifications or added accessories, your vehicle will still be classed as a classic car and will still be covered under your insurance policy.
But there are limitations...
Usually cars built before 1930 are classed as a vintage cars (not classic), and cars produced between these dates - 1919 and 1930 will only be covered by vintage car insurance policies. If this applies to your car, you're going to need to look for an "age appropriate" policy instead.
My pride and joy is priceless, so how much will I be insured for?
As classic cars are not readily available in dealerships, it is slightly more difficult to ascertain their market value. Because of this your insurer will generally base their cover on an agreed value, which can be derived in a number of ways.
Agreed value is usually based on the year of production, the make and model of the car, the version, body type and the number of kilometres on the clock. If you've added any accessories or made any modifications to your car, these will be added to the total (presuming they increase the value of your vehicle).
What will my classic car insurance cover me for?
Does all the small "drive" you crazy? This is what you will usually be covered for;
Fire damage if your pride and joy gets hot under the cover
Damage that occurs in a collision that is (genuinely) not your fault
Damage to a third party vehicle
Third party medical expenses
Accessories and extras that you've added to make your vehicle look even more stunning
Freak weather conditions, such as storms or floods
Theft of or from your beloved vehicle, providing it has been properly secured
Vandalism or malicious damage by jealous types
Glass/ windscreen damage
Any contents safely locked within the car
What won't I be covered for?
Of course, it is also useful to know the limitations of your cover. You'll be on the road to recovery in no time with these handy helpers up your exhaust!
Damage, theft or loss occurring outside of Australia
Damage caused by mishandling, for example, heavy braking
Electrical or mechanical failures caused by poor maintenance
Any repairs to damage which occurred before the policy was taken out
Depreciation of value over time
Intentional damage to your own vehicle
Your vehicle has been legally seized
Damage relating to any act of war or terrorism
Remember that policies vary. Always contact your insurer to confirm what you are (and are not) covered for as part of your classic or vintage car insurance policy.
Is classic car insurance expensive?
It all depends on what you class as good value. High value cars, like your classic set of wheels, are always going to be more attractive to thieves than low end models, and so any insurance policies which cover them are going to have higher premiums.
That said, you can take measures to keep your premiums down, for example by parking your car in a secure area, nominating safe drivers or by fitting modern security devices.
Where can I buy it?
There are a number of Aussie car insurers offering classic car insurance for your awesome set of wheels;
| | | |
| --- | --- | --- |
| Brand | Insurer | PDS |
| Famous classic cars | Great Lakes | |
| RAA Veteran and Vintage Insurance | RAA insurance | |
| RACV veteran, vintage & classic | Insurance Manufacturers of Australia | |
| RACQ classic car | RACQ Operations Pty Ltd | |
| Enthusiast | Assetinsure | |
| Lumley Special Vehicles | WFI Insurance Limited | |
| Shannons | Suncorp | |
| NRMA Veteran, Vintage & Classic Vehicle | IAG | |
Phew! All that information is exhausting (see what we did there!)

Hopefully we've armed you with the tools you need to find the perfect policy for your pride and joy. We help you make it wheel easy to find cover!